Welcome to the Founder Office Hours resource center!
When I started Wethos, I had no network, I didn't know the difference between an angel investor and a VC, and the jargon felt completely overwhelming. I think a lot of founders feel this way and that's why I created this resource center, to help emerging founders navigate fundraising for the first time. As founders, when we don't share information and resources with each other, it's like employees not sharing salaries. It only benefits investors who want to keep us guessing so they have leverage over valuations, who receives funding and when, and what metrics are considered "too early". I've now raised $4.6M in VC for Wethos and we are a thriving team of 20, there's nothing I would love more than helping more amazing founders funded.
A few things before we dive in…
These materials are not to be shared publicly or with others without my knowledge or permission. If you want to share these resources, I ask that you connect the founder directly with me to set up a time to chat during my office hours.

You are welcome to share the calendar link to my office hours but I ask that you do so selectively and only with founders who share the same values around honesty, accountability, and transparency. I want everyone to have access to resources and to me as I began my journey by sending many cold emails however, not all founders have good intentions and I must be cognizant of this.

When necessary, I will prioritize those who have the least access to capital and opportunity. That means that Black women, women of color, and queer women will take precedence if my office hours fill up quickly.
Fundraising Materials & Tools
Wethos pitch deck (2019)
Investor master template
Diligence check list
NYC vc list
Outbound materials
Sample outreach email
Sample closing email
Close stats and volume
General Tips & Tricks
Stay in control of the meeting
Questions to ask at the end of your first meeting
Be direct
Know who you're pitching to
Be visual
Pitch competitions can help drive inbound
Treat it like sales
Capital should be fuel to an existing fire
Get to "no" as soon as possible
It's not personal
Fundraising Materials & Tools
Wethos Pitch Deck (2019)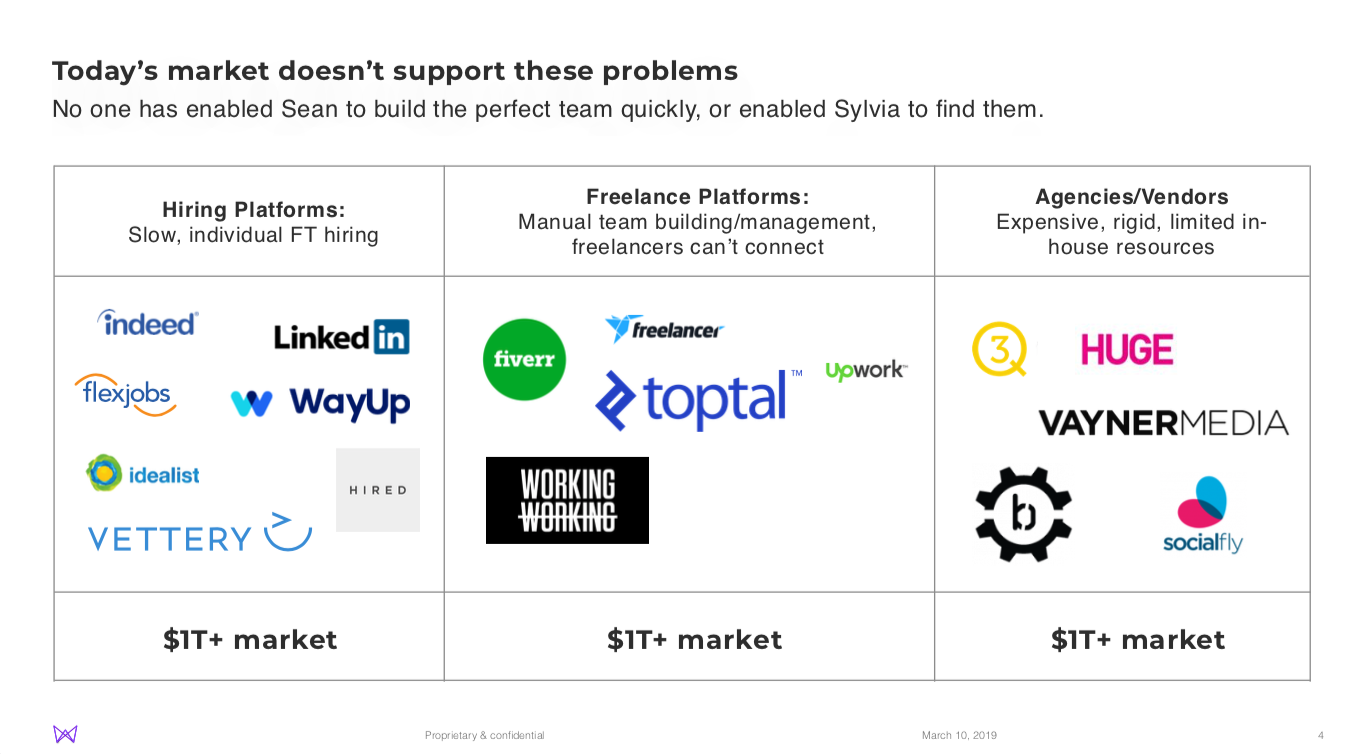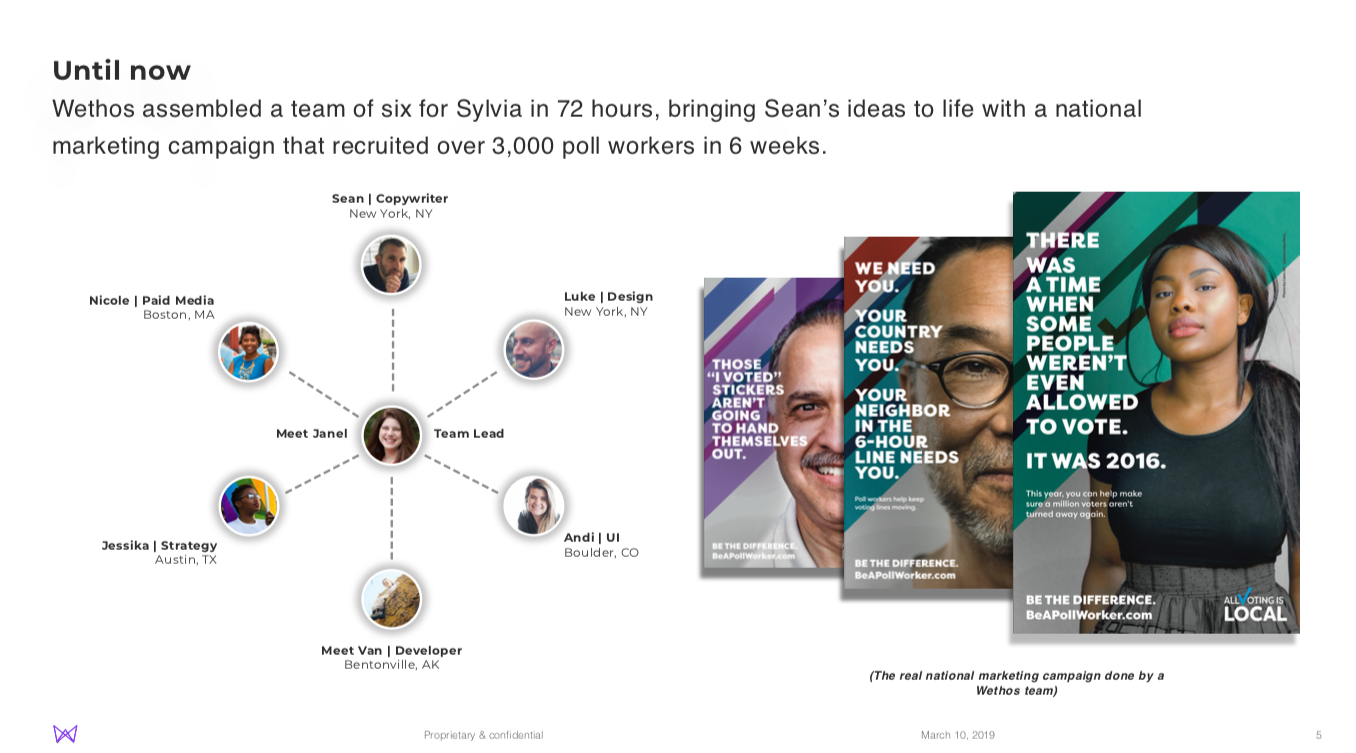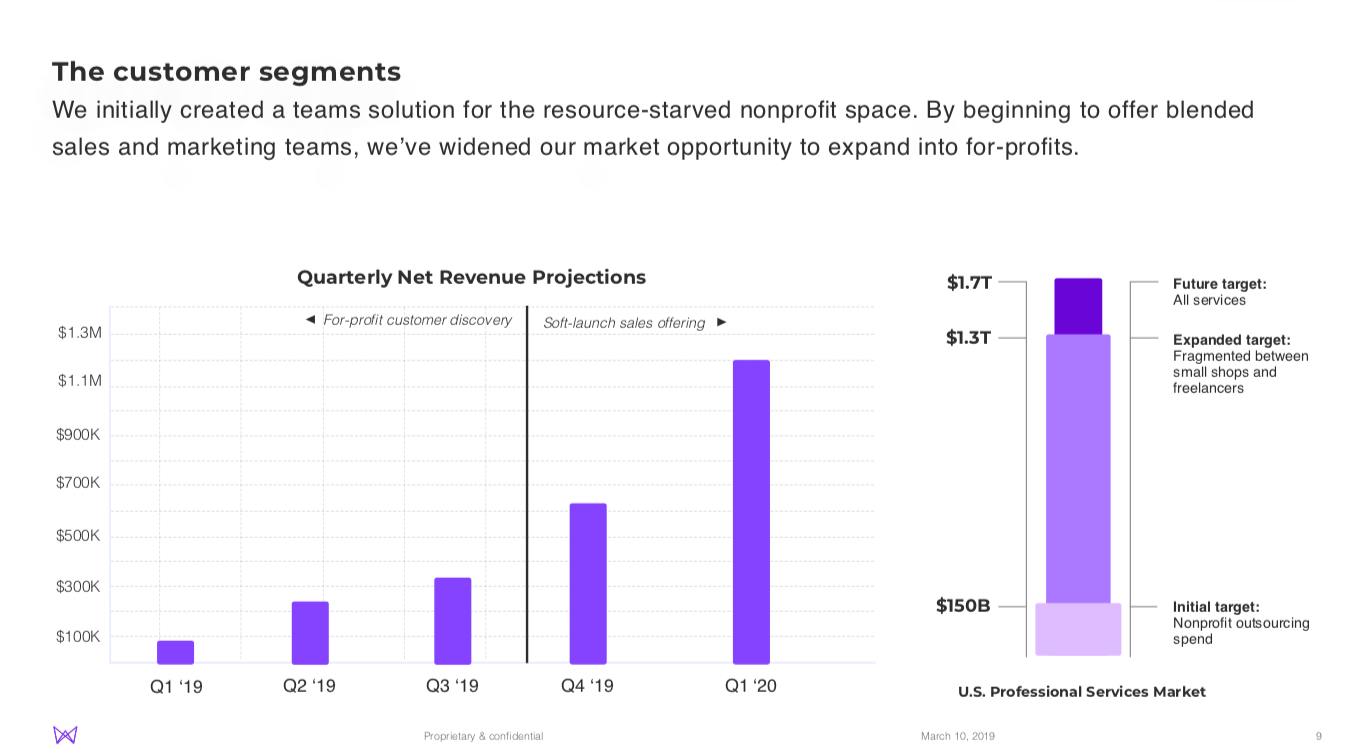 Make a copy of this to help you track your outreach, practice Q&A, and track on building your network.
A list of all of the active firms in NYC, their fund size, areas of focus, partner names and location.
Diligence Check-list
Depending on your stage, you may not need to put together all of these materials. This is a list of potential materials to include in your data room which can be structured in Google Drive, Dropbox, or other.
Financials:
Historical financials

Projections (including projected P&L, use of funds, burn rate)

LTV & CAC breakdown (sales funnel conversions/stats, avg. spend)

Cohort breakdown (including date of acquisition, initial spend, spend to date, returning or single-use customers)

Tested marketing tactics, conversions and spend

Q1 balance sheet

3 months of bank statements

2018 P&L
Legal:
All contracts that exceeded $25K in size

GSAs & User Agreements

Operating agreements
Sales & marketing:
Go-to-market strategy

Tested marketing tactics and conversions

Sales funnel conversions and cycle
Product:
Competitive analysis

Application blueprint

Product roadmap

Tech tools and integrations
Business summary & management:
Insurance policies

Employee agreements

Offer letters

Company policy & operations documents

Latest tax return
Outreach emails
Prioritize funds that can lead first

Keep it short and sweet

Link to only necessary materials

Your goal is to get a meeting, not try to cram everything about your company into one email

Leave them wanting more
Closing emails
Creating "fomo" is tough, I prefer to ask diligence questions as a way to insinuate that I'm vetting several funds to join the round

Sample questions:

In your experience, what are some of the most important areas to focus on between a Seed and Series A round?

What's important for you to know about the company on a month-to-month basis?

If you decide to join our round, what are the areas you believe we can improve on?

What does success look like to you, your fund, and your LPs?

What's one thing you wish founders were more transparent about?

Always ask to speak to a portfolio company as a point of reference to see what the fund is like to work with

Get the fund you're trying to close on the phone or for an in-person meeting and reiterate what the future holds

Remind them what the world looks like with your product in it at scale

Sell potential, focus on what could go right instead of what might get wrong
Wethos funding stats on average
75-100
Avg. amount of funds reached out to
8-12
Avg. amount of funds committed
3-6 months
Avg. time to close a round
$4.6M
VC funding raised since 2017
Stay in control of the meeting

Investors like to ask questions, which sometimes means they're going to interrupt you. Make sure you stay in control of the meeting, if they're asking you questions that seem to rabbit hole or not make sense because of their lack of knowledge in the space, turn it back around on them and ask "it's interesting that you have that perspective, what makes you feel that way?". It's crucial that you understand the important parts of your business and keep VCs focused on that. In general, I like to take them through my background an founding story and hit all of the core areas of the business: the problem, the market opportunity, the traction to-date, etc.

Questions to ask at the end of your first meeting

Don't leave the first meeting without understanding what the next steps are, I like to ask 3 main questions: What is your investment process like, how does your fund typically make decisions? What's your typical check-size? Is there anything in particular I can send as a follow up? Also, it's good to make sure you stay in control of the timeline, let them know that if you don't hear back within a week that you're happy to follow up for a temperature check.

Be direct

It's important, especially for women, to be direct with investors so that you know where you are within the process. Although relationship building is important, getting coffee with an investor for 6 months and hoping they'll eventually write you a check is a waste of your time. If you're fundraising, you're fundraising; you're not getting casual coffees. Once you decide to go out it's good to make that explicit and if an investor wants to meet but doesn't have any interest in going into the round, let them know that you're happy to catch up after your round is closed tp save yourself time.

Know who you're pitching to

VC's and angels can come from all different types of backgrounds, make sure you do your due diligence before entering a meeting. If someone is from a product background, focus more in that area, if they're more financial, focus on numbers instead. It's important to position yourself and craft your conversations in a way that is going to have the highest chance of success.

Be visual

Investors have a VERY short attention span, the more visual you can be the better. Turn spreadsheets into charts, use graphics to help communicate whenever you can to make it really easy to digest quickly. VCs are being inundated with pitches every minute of the day, being visual will help you stand out, grab their attention, and make it easy for them to grasp your concepts quickly and have more productive conversations.

Pitch competitions can help drive inbound

Even if you don't win pitch competitions, pitching in front of a room of investors is a good way to get them to come to you and not the other way around. Be weary of pitch competitions that require you to "pay-to-play", as a first time founder it's easy to get taken advantage of in thinking that people have good intentions. Pitching can help you tighten your public speaking skills, craft a stronger story, and build your network quickly.

Treat it like sales

Just like sales, fundraising can very much come down to a healthy pipeline, urgency, and a clear strategy around identifying qualified leads. Figure out who your ideal investor profile is, not just from a fund and background experience perspective, but from a personality perspective as well. Is their Twitter filled with content that you think aligns with you as a person and your company? Are they interested in similar approaches that you are? It's important to have a high volume of outreach, track your funnel meticulously, and document the reason why someone said no as much as possible so you can improve your process as you go along.

Capital should be fuel to an existing fire

Raising money should never just be a mechanism for "staying afloat" or so you can "just keep growing". Outside capital is a tool to accelerate your existing growth which means you have to have something to show for yourself, even at a pre-seed stage. It's so easy to get started these days, organically acquire customers, put a website up on Squarespace, etc, so the bar for receiving funding is only going to get higher. The easiest way to get VCs to come to you is to be absolutely obsessed with growing your business and providing value to your customers.

Get to "no" as soon as possible

Don't let people waste your time when you're fundraising, you should be hyper focused on the leads that are the strongest. The next best thing to a "yes" is a fast "no" which enables you to disqualify leads quickly and move onto leads that are going through your funnel with velocity. Don't let people string you along, it will only work in their favor, not yours.

It's not personal

This one is tough, because it always feels personal. Go into each meeting expecting to hear a "no", an investors entire job is to say no to most of the companies that come across their desk and even though it's painful, it really isn't personal. The faster you get used to hearing "no", the less hurtful each one will feel and having a high volume of leads and outreach ensures that you don't put all of your eggs in one basket and end up disappointed.